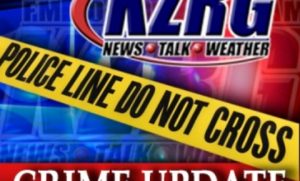 A man accused of stabbing two people Friday (8/4) in McDonald County has now been charged.  McDonald County Sheriff Mike Hall tells News Talk KZRG what 28-year-old Alan Tucker of Poplar Bluff is facing.
"Alan Tucker was charged with two first degree assaults for the stabbing and two counts of armed criminal action, one for each of the stabbings."
Hall says a woman who was with Tucker when he was arrested was treated for her injuries at a Neosho hospital and released.  There is no update on a man who was taken to a Joplin hospital after being stabbed Friday morning.
Hall also tells News Talk KZRG that as Deputies were investigating a rural Pineville home on Friday, they found evidence of another crime.  "During the crime scene search, we were also able to determine also (Tucker's) uncle was growing marijuana and was also a felon and had firearms in the house."
57-year-old John Henson of rural Pineville, Tucker's uncle, was arrested for manufacturing a controlled substance and unlawful possession of a firearm.