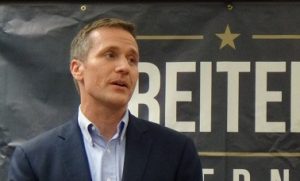 Missouri Governor Eric Greitens says two people have died in the weekend flooding across his state.
Greitens said Sunday (4/30) that additional flooding is expected in the days ahead as rivers crest at historic levels.
So Greitens says he has activated the National Guard, so troops can help cities fill sandbags and prepare for the flooding.
First responders performed 111 evacuations and 135 rescues across Missouri over the weekend.
Flood warnings remain in place for much of Missouri with the heaviest flooding expected in the southern third of the state.