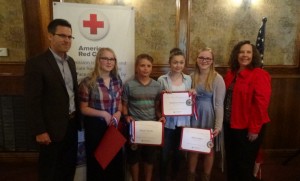 The American Red Cross held its annual Everyday Heroes Celebration Friday (5/13) in Joplin. It's a way of honoring people who make a difference in the lives of others. One of this year's Everyday Heroes is a group of four teens from Carl Junction, who started Bundles of Hope, which provides backpacks with a blankets, a stuffed animal and toiletries.
"And we give them to the children's divisions in our area and they give them to foster kids on their first night in foster care."
Mati Goebel tells News Talk KZRG one of the four, Mason Hymer, was in foster care himself and that was the spark for the project. Abbey Goebel and Mackenzie Hymer are also part of Bundles of Hope.
Joplin Police Officer Adam New and his wife, Amy, were also recognized as Everyday Heroes by the American Red Cross of Southern Missouri for saving two young girls who were drowning at a pond near their home. Adam tells News Talk KZRG it was through fate that he was there that day. "I don't normally get off that early, I got off a couple hours early that day. God knew what he was doing putting me there."
Others honored Friday were Becky Graves, who started a baby and infant loss support group and 5K Kiss Me Goodnight Twilight Run; Jim Whitney, a Joplin teacher and coach who started a club to help students in heed; and Joplin Police Officer Brian Wenberg, who replaced a young boy's bicycle after the bike (which was a Christmas gift) was damaged the day after Christmas.
You can see photos from Friday's ceremony in the photo section.