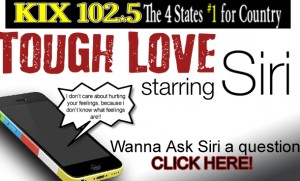 The KIX cell phone is a little different than most, and the SIRI feature on it seems to offer more advice than is normal! Catch TOUGH LOVE with SIRI at 7:35 weekday mornings on Morning KIX!
Got a question for SIRI? Email it to us at kix1025@zrgmail.com!
Here are some previous TOUGH LOVE with SIRI questions!
What do you think of parents who give their kids tablets?
Should you coach a kid's sports team?
Will my Tinder date look like her picture?
What does Siri think of garage sales?
What does Siri think of people who check their phones in the bathroom?
Should you hook up with your Ex?
My son tells me I'm the cool parent…..What does that mean?
Kaylee's bachelorette party question
Hey Siri, why doesn't my husband notice my hair?