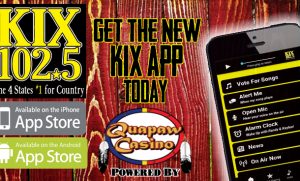 THE NEW KIX APP has NEW features!!!
With the NEW KIX App, powered by Quapaw Casino, you can request songs directly from your phone inside the app, set your alarm to Morning KIX so Randy & Kaylee can WAKE YOU UP, get text alerts from KIX onto your phone, and so much more!!! Download it now for your Android or iPhone!!
Here's a video showing all the KIX App features!